Prysmian announces global launch of sustainable Ecoslim system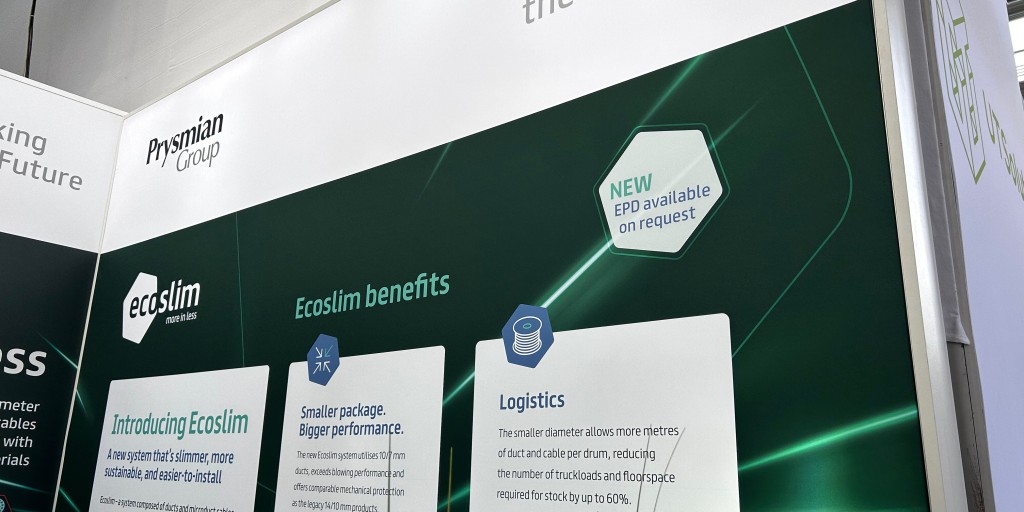 Prysmian Group, world leader in the energy and telecom cable systems industry, announces its global launch of the sustainable telecommunication system Ecoslim, using Sirocco HD and Sirocco Extreme (XT) optical cables which are available with up to 864 optical fibres. Sirocco HD cables are made with 50% less plastics and up to 25% smaller in diameter, in line with the Group's committment to increase the amount of recycled material in their products.
Limited space for installation and its upscaling volumes and need for higher performance with less impact onenvironment are a few of today's FTTx construction challenges. Therefore, Prysmian Group is focusing on development of solutions which are more efficient yet with lower environmental impact.
Reclaimed HDPE
Ecoslim uses the new generation of Easenet microducts which are up to 90% made of reclaimed HDPE, resulting in up to 50% less usage of virgin plastics compared to the conventional duct solutions. In specific cases that have already been deployed in the Netherlands, 14/10mm ducts have been replaced with smaller diameter 10/7mm ducts for the installation of Sirocco HD and Sirocco Extreme cables with up to 192 optical fibres, enabling longer lengths of both cable and ducts to be stored on a drum, resulting in up to 60% drum quantity reduction, therefore also reducing number of truckloads and warehouse space by 60%. All these improvements, comparing with traditional diameter micro ducts of 14/10 mm with a larger fibre cable used, make Ecoslim an undisputable champion in reduction of the CO2 emissions.
Environmental Product Declaration (EPD)
Moreover, Environmental Product Declaration (EPD) is also available for an independent comparison with conventional networks, proving up to 50% CO2 reduction along the value chain and making Ecoslim one of the first optical network components with EPDs.
"Network owners move towards shifting the task for greener networks to suppliers and installers, and PrysmianGroup is ready to answer this challenge with Ecoslim", states Philippe Vanhille, Executive Vice President Telecom Division at Prysmian Group, "The solution shows stronger performance and efficiency, and with record fibre density of Sirocco HD or Sirocco Extreme cables allows network owners and providers to transmit even more data through the available duct infrastructure." Ecoslim also shows efficiency improvement in trench and cable installation. Reduced diameters of the Ecoslim system allow micro trenching and avoid wide trenches usually required for high volume of ducts, which is beneficial especially in overcrowded areas, resulting in less civil works and reduction of spoil by 50%.
KPN and Open Dutch Fiber
Since 2020 when the first pilot with the Dutch operator KPN proved to be successful, together with Open Dutch Fiber (ODF) more than 300.000 houses have been connected. Growing interest in the Scandinavian countries is evident, too, showing the world's ever-increasing demand for sustainable information provided by innovative solutions.
---